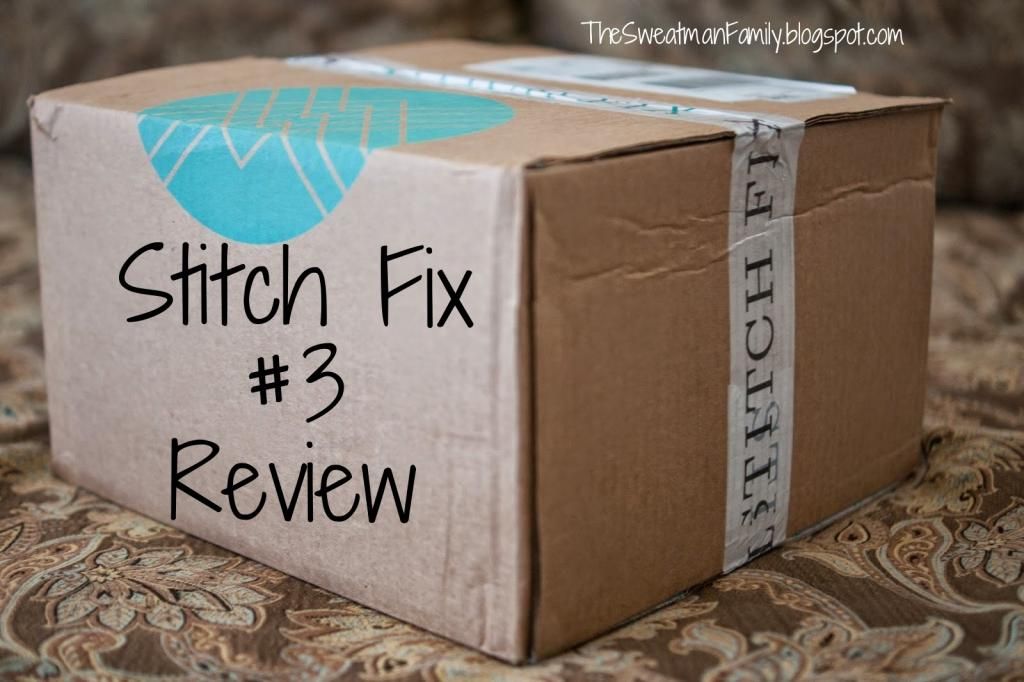 It's here, it's here! Fix #3 arrived exactly on time and I didn't peek at my items online. This fix shipped from Indiana this time so I was worried I didn't have Rachel as my stylist again but I did!! I had asked for the Kate jeans specifically, things for our upcoming camping trip, and comfy nursing friendly items.
By the way,
Stitch Fix
does offer accessories as well but so far I have asked them to skip the accessory since I need clothes items so badly.
I was very pleased with my note from Rachel! I feel like she truly takes the time to make my fix a personal one. She addressed the missing jeans from the last fix, tied all the other items to my Pinterest board, referenced my favorite color, & nursing friendly options.
Here is my fix - a variety of blues and greys!
The items I received were:
Kut from the Kloth Kate Distressed Boyfriend Jean, size 4 ($78)
Pixley Potina Brushed Plaid Draped Cardigan, size M ($48)
Olive & Oak Jessina Tie Front Top, size M ($64)
41Hawthorn Louisa Jacket, size M ($88)
Le Lis Adler Dolman Top, size M ($44)
Kut from the Kloth Kate Distressed Boyfriend Jean ($78) - KEEP
I have to say I was nervous that these were a size 4 and that they wouldn't fit since it is the one item I specifically requested. So you will understand when I say I did a little happy dance when I realized they fit!!! And they fit great!!! They weren't too tight or digging into my waist at all.
I like these because they have just the right amount of distress without being destroyed. The boyfriend style is a nice change from all my skinny jeans.
Comfy, mom-friendly for chasing around 4 little girls, great fit ... these are a keeper!
Pixley Potina Brushed Plaid Draped Cardigan ($48) - KEEP
This looks a lot cuter in person than on the style card! I would never have picked this out for myself in the store! I tend to look right past anything plaid. This is why Stitch Fix is so great! You get to try new, fun pieces that you wouldn't normally get on your own.
I was a little skeptical on the sleeve length at first but I am pretty sure it is suppose to be worn with the sleeves rolled like above.
The fabric is super soft, comfy, lightweight, & washable! It has pops of color, which I struggle with, and is nothing like the cardigans I own. The entire family agreed this was a keeper! Thanks Rachel :)
Olive and Oak Jessina Tie Front Top ($64) - RETURNED
Rachel mentioned this was a good camping shirt & nursing friendly. I appreciate her effort in trying to accommodate the nursing friendly aspect! The material was lightweight without being too thin. It really would have been good for hiking trails on a sunny day without getting too hot.
However, it just fit me weird. I had extra fabric under my arms, which I think I could have dealt with if I really loved it. The shorter front and high cut sides really make me look shorter and more "hippier" than I already am. I think it was kind of boxy too - didn't do much for my hourglass frame. I am also not really a fan of tie front shirts.
I love tab sleeves but unfortunately it was missing the button. It did have a spare attached to the tag but I didn't like this enough to want to keep & repair.
The color, fabric, nursing friendly aspects were all great! If it was longer without the tie and not so boxy it would have been a great top. It is washable but said for best results to dry clean it - which doesn't work well for a mom of 4 littles. I had to send this one back.
41Hawthorn Louisa Jacket ($88) - RETURNED
However, it was HUGE!!! I had bunching under my arms. and the shoulders weren't fitted enough.
The arms were baggy & the torso had way too much extra space. I didn't think requesting an exchange for a smaller size would have even been enough.
The shoulder seams went past my shoulder and the sleeves were too long.
I also would have preferred some sort of collar or hood on this. The style I had pinned had a small collar. It just seemed unfinished to me with nothing at the neckline. This was sent back.
Le Lis Adler Dolman Top, size M ($44) - RETURNED
Rachel was inspired for this top based off
this pin
but as you can see this just felt like a big mess on me. I have "no dolman" in my profile after my first fix so either that was overlooked or she thought I'd like it anyway. I still don't like dolman sleeves! I see how it is comfy but I look like I have bat wings and they do nothing for your figure except hide everything. I lost over 30 something pounds after Scarlett, worked hard to get the baby weight off after Georgia, and I feel like this just adds it all right back on.
So much fabric and yet so short in the front. I am not a fan of hi/low cut tops. The short fronts make me feel even shorter than I already am. Just raising my arms to take photos my tank was showing.
The colors and soft fabric were great! The entire cut and fit of this top was a big no so it went back.
My total cost for this fix:
Jeans $78 + Cardigan $48 - $20 styling fee applied = $106 + $6.89 tax = $112.89
I have credit from Christmas gift cards so my actual cost was $0!
I am debating if I need to change my size in my profile. I am almost always a medium but it seems like all these tops have been too big. Even the smaller size jeans she sent on a whim fit great! I can't decide. Nothing is worse than getting a stack of clothes that are all too tight. I'm kind of riding the line between the sizes and think if an item is cut big I need it in the smaller size.
Overall, I am happy with this fix from Rachel! I kept 2 items this time so I feel like she is figuring my style out. I am requesting Rachel again for my next Fix. I had to reschedule the next one to come before our trip so it isn't sitting on my doorstep the whole time we are gone so I hope they still assign me to Rachel!!
If you would like to try Stitch Fix yourself, I'd love it if you would use
my referral link
!
Disclaimer:
This is not a sponsored post. This post does contains referral links, which I'd be so pleased if you would use! All opinions are my own :)